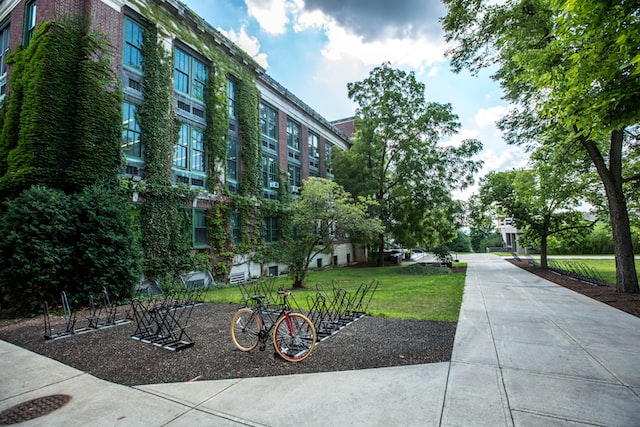 Finding safe, affordable off-campus housing can be a struggle. After all, not all places that advertise their availability as apartments or houses are actually safe. In today's world, there are many people who seek to take advantage of the younger population in need of somewhere to live. 
Here are the top five things you should look for when searching for safe college accommodation:
1. Check The Landlord's License
If you sign up to live at an apartment, you shouldn't just blindly trust the landlord. Inspect the property for any signs of unlicensed operation and check the landlord's license to make sure they legally own the property. This may seem like a minor thing, but you don't want to sign a lease with someone who could potentially sue you for months of your rent. 
If you are looking for student housing, be sure the landlord has a business license that allows them to operate the property as an apartment. If there are any other issues, such as unlicensed operation or a lack of proper safety features, take note of them. This will help you avoid a potentially unsafe situation.
2. Request A Tour Before Signing A Contract
Many students are too eager to get into a new place as soon as they find an ad online. This isn't necessarily a bad thing, but you should ask to see the property first. If you are signing a contract before seeing the landlord's place, they could be hiding something. Make sure you have the landlord's phone number and address nearby. 
Contact the property owner and ask them to meet you at your new home for a tour. If there are any concerns about the property or the landlord, bring them up then. Ignore the "sign here" contract with no further explanation and do your tour instead. Not only will you be able to see any potential issues with the place, but you'll have the landlord's contact information at the ready. 
Some key things to look for are whether the property is suitable for the environment i.e. is it fully rainproof in a heavy rain fall area, does it have hurricane windows for places thst experience storms, and will it sufficiently keep heat during the winter period. Taking a tour will help you identify all these extra things that can make a huge difference.
3. Do Your Research On The Landlord
Before you sign a lease with a new landlord, do some research on them. It might sound silly to do your research before signing a lease, but it can be surprisingly helpful. Start with the landlord's criminal record. This information is available online and can help you decide if you want to live with an unlicensed landlord. If the landlord has a bad criminal record, it might also help you negotiate a lower rent. 
Next, look at the landlord's professional history. This can indicate how reliable they are. The better the landlord, the less likely it is that they'll lie about the apartment's condition. Finally, look at the landlord's customer reviews. These are available online and in local papers. You can use them to see what previous tenants have to say about the landlord.
4. Find Apartments With Good Reviews
One of the best ways to make sure your new home is safe is to find an apartment with good reviews. Before signing a lease on an apartment, look online for reviews. This can be tricky, since the landlord may try to suppress negative reviews. If you can find an apartment with a few good reviews, it's a good sign. This doesn't mean that the others are fake, but it is a sign that the landlord is aware of potential issues. 
Once you find a few places with good reviews, start looking at the reviews for each individual property. You can use a website like Apartment Ratings to get an overview of all of the reviews for the apartment you are considering.
5. Stay Away From Anything That Sounds Too Good To Be True
Real estate is a tricky business, and sometimes things get a little crazy. However, remember that you are able to walk away from most any lease. If something about the place doesn't seem safe, it is probably best to walk away. If you find an apartment that seems too good to be true, it probably is. This is a sign that the landlord is trying to overcharge you. Remember that you don't have to accept a place that is too expensive. If you find an apartment that is too small or has potential safety issues, walk away. These things shouldn't be an issue in a place that is actually licensed.
Wrapping up
Finding off-campus housing is tricky business. There are many bad landlords that prey on the need for affordable housing. However, by taking these five tips into account, you can make sure to find a place that is safe, affordable, and actually licensed. Remember that you can always walk away from a lease if you spot any potential issues. These should be rare, and you should be able to find a good place with few to no safety issues. That'll be one less thing to worry about so you can soak up the moment as they leave for college to start the rest of their lives.
(Visited 8 times, 1 visits today)
Related