Do you find yourself struggling with what to teach at the beginning of the school year? Sure, I always love doing fun ice breaker activities or practicing classroom routines. Yet, one of my favorite places to start is with books! Books are a great way to scaffold learning and promote conversations. So today, I'm sharing 11 favorites that are perfect back-to-school books for 3rd grade!
Please note this post contains affiliate links.  If you follow my links, please know that I make a very small commission from your purchase. There is no cost to you, but this extra coinage allows me to continue creating free resources and writing awesome content for you!
Back to School Read Alouds Books for 3rd Grade
I know time is limited, so you can quickly access these books by clicking the link in the caption of this round up photo!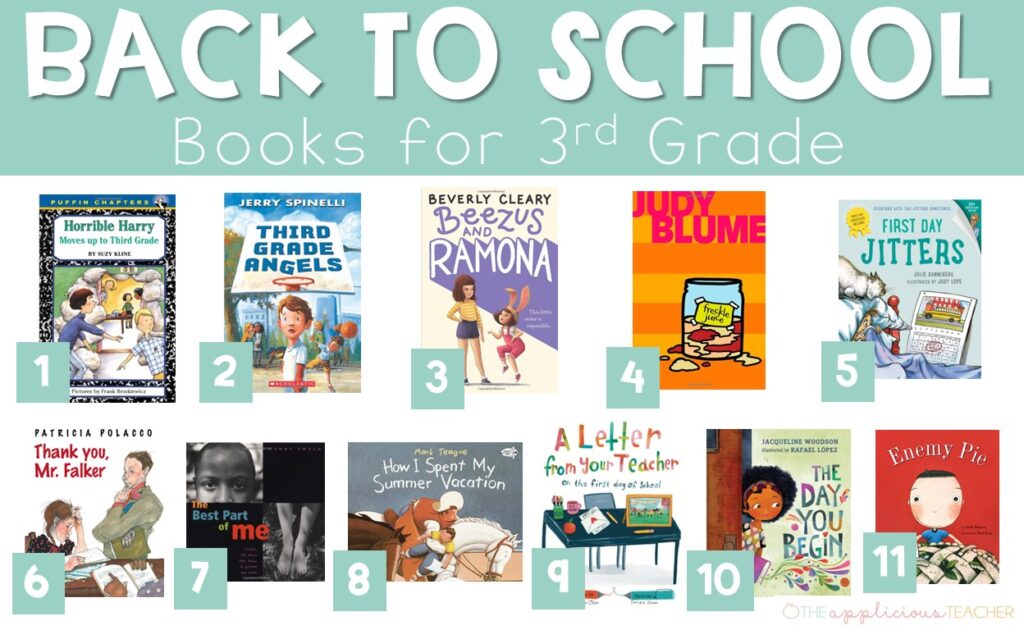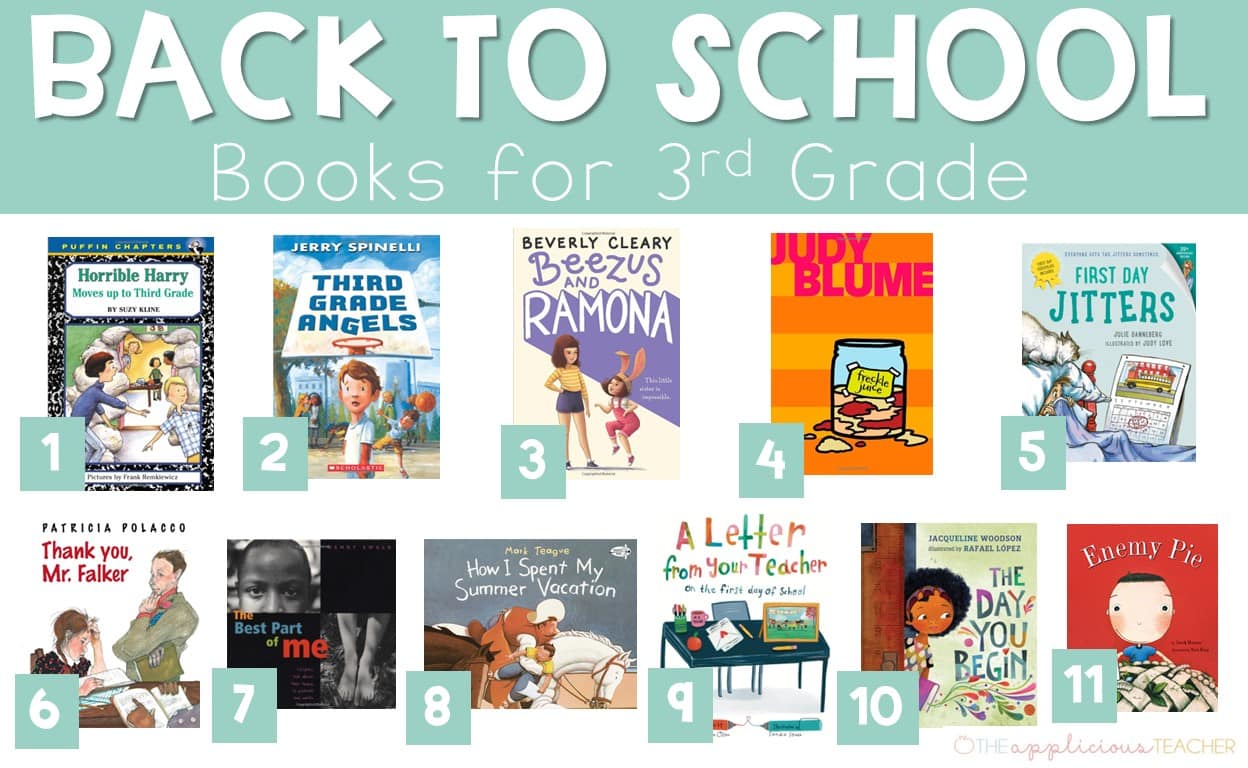 I think The Horrible Harry series is absolutely terrific! My second graders loved this series, so when I moved to third grade, I knew Harry needed to come with me!
In this one, the characters learn that third grade brings lots of surprises. However, one thing that hasn't changed is that Harry and Sidney are still sworn enemies. Their relationship only gets worse when Sidney accidentally kills Harry's pet spider- oh my! But Harry then decides to come up with a horribly funny way to get revenge during a class trip.
Grab the book here on Amazon!
The front cover may deceive you, and you may think the book is about baseball. However, it is not! Jerry Spinelli is one of my favorite authors, and his books never disappoint. I love how each chapter ends in a cliffhanger, and it keeps your students wanting to know more. This book tells a wonderful story, and my favorite part is that it inspires thoughtful action; something I strive for when building my classroom community each year.
Check it out here on Amazon!
Who hasn't experienced an annoying younger sibling? Wel… that's why I love this book for the beginning of the year. Perfect to use as a mirror or window! Also, it is a Beverly Cleary classic!
It has everything you need, especially when teaching a close reading lesson, such as quality literature, a solid storyline, relatable characters, and humor!
Check out the close reading activities that can be used with this read-aloud.
Also, you can grab the whole collection here on Amazon!
This book is an absolute childhood favorite! And it is no surprise that this is a bestseller from the author Judy Blume.
If you are unfamiliar with the story: Andrew wants freckles more than anything. His friends at school have freckles. One day, Sharon offers Andrew a secret freckle juice recipe with the promise that he will look just like his friends. He rushes home to create the concoction, but what starts as a simple freckle juice recipe turns into something disastrous!
My students always enjoyed this book because it was funny, easy to read, and always kept them wanting more.
I used this book for a close reading opportunity to bring more meaning to the text. We tied in the idea of a theme. This can be used as a great introductory lesson. Check it out here!
Grab this book on Amazon here!
This is just one of those books that you read at the beginning of every school year. Maybe you would call it a back-to-school "classic." I personally love how the book shows our kiddos that everyone gets jitters on the first day, even teachers! I am also a huge fan of finding extension activities that tie into the read-aloud. In the past, I have made "Jitter Juice" with my students, which is always a big hit. However, I also love completing this quick and fun writing activity.
Grab the book here on Amazon!
In my opinion, every teacher should share this book!
This story is so heartwarming! If you haven't read this book before, you must know that it is a real-life story about a dyslexic girl and the teacher who would not let her fail. This book is beautifully written and illustrated by the author Patricia Polacco.
Check it out here!
The award-winning photographer asked several children, "What is the best part of you?" and presents their answers in this funny, sometimes moving, deeply personal book that includes beautiful black and white photos taken by the author. This book is a wonderful read-aloud and provides ample opportunity for response to the text.
Meaningful bulletin board idea that can stay up all year: after reading this book, snap pics of students' best parts of themselves, then have students write about why that's their best part. Piece together by backing the photos and writings with construction paper and boom! Meaningful bulletin board!
Grab it here on Amazon!
This read-aloud is a fantastic way to start off a new school year!
Most kids go camping over the summer, or to grandma's house, or maybe they're stuck at home. Not Wallace Bleff. He was supposed to visit his Aunt Fern. Instead, Wallace insists he was carried off by the cowboys and taught the ways of the West!
This read-aloud is great to begin a conversation about what your students did during their summer vacation. In turn, you can extend the lesson by completing the Summer Vacation Cactus Writing Activity and Craft!
Grab the book here!
This story is so cute! It is written from a teacher's perspective welcoming their students on the first day. You also get the fun surprise of signing YOUR name at the end of the book as if it were really a letter from you to your students! The book's message is so thoughtful, and you can tell the author is a teacher and TRULY loves her students!
Check it out here.
This could easily be one of the best books for the beginning of the school year! Jaqueline Woodson is one of my all-time favorite authors. This read-aloud reminds us that we all feel like outsiders sometimes and how brave we are to go forth anyway. It shows that sometimes when we reach out and begin to share our stories, others will be happy to meet us halfway.
Grab the book on Amazon!
This is a great read-aloud for all ages! With friendships being at the center of their world in 3rd grade, this one helps students navigate those sticky times when *maybe* someone isn't really a friend at all… but an enemy!
Students always listen attentively to this read aloud. And of course, they totally understand the lesson taught at the end.
Check it out here.
Favorite Back to School Books for 3rd Grade
So, what do you think of these suggestions for back-to-school books for 3rd grade? I know many of these read-alouds will be a perfect addition to your back-to-school lessons. Are there any that I may have missed? Comment below!
Related Posts