In a few weeks' time, eight-year-old Peter* will say goodbye to his school friends as he moves to Britain with his parents. In the past few years, Hong Kong children have got used to seeing more and more of their friends leaving the city.
A decade-long decline in the birthrate, exacerbated by a recent exodus of residents from the city, has led to an alarming plunge in student as well as teacher numbers, leaving Hong Kong's education system facing a serious crisis.
According to official figures, more than 64,000 students – from kindergartens to secondary schools – withdrew from the local education system in the past two years. In the last academic year (2021-2022), more than 33,600 students, or 4% of the total student population, left school – a 10% increase from the year before. Local media reported that at least five schools face closure in coming years after they failed to reach the minimum 16 enrolments in the first grade.
Parents and teachers say the imposition of Hong Kong's national security law three years ago – which emphasises "patriotic education" – as well as heavy academic pressure, have prompted them to leave the city they love.
Implemented in 2020 to stamp out the months-long anti-government protests, the national security law lays out penalties as severe as life imprisonment for crimes including secession, subversion, terrorism and collusion with foreign forces.
Authorities blame the widespread participation of young people in the anti-government protests on the failure of schools and universities to discipline their students. Seen as breeding grounds for government animosity, educational institutions are now under serious scrutiny, according to education professionals who declined to be identified out of fear of breaching the national security law.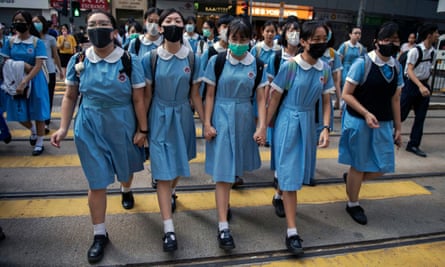 In the past three years, a number of measures have been introduced to boost patriotism and "national security awareness" among students. From primary school, students learn the concepts of "secession", "subversion", "terrorist activities", and "collusion with a foreign country." Meanwhile, liberal studies – a subject supposed to develop critical and pluralistic thinking – will from September be replaced by "citizenship and social development," which stresses loyalty towards the authorities.
Kelvin Mak*, Peter's father, said the rapid erosion of freedoms in Hong Kong have prompted him to seek a more normal life for his only child.
"I want him to have an objective mind and not be brainwashed. When they're not allowed to say this or think that, they will be ill-prepared for the future world," he said.
Eva Lai*, a mother of two, said she decided to leave Hong Kong as soon as the national security law passed. "You could breach the law for just saying the wrong things. I am terrified of my kids getting into trouble," she said.
Their fears are justified; in 2022, one school suspended 14 students for "disrespectful behaviour" because they failed to stand up during the national anthem and the flag-raising ceremony.
'Teachers have to self-censor all the time'
Teachers have also been hit by low morale. Those interviewed by the Guardian say the new ideological requirements and the constant fear of being reported for critical comments has taken a toll.
According to official data, about 6,500 teachers quit or retired from their jobs at Hong Kong schools in the last academic year – almost double the average figure before the emigration wave in 2021. More than half of them quit before reaching retirement age.
From the new academic year in September, new teachers are mandated to pass exams on national security and go on study tours to China.
Rick Tam*, a liberal studies teacher, quit after twice receiving warnings from his school over his online criticism of the authorities.
"I found the toxic atmosphere at the school upsetting," he says. "Under the national security law, what you say in class might be interpreted as criticism of the government and this can be held against you."
The restrictions have led to low morale among teachers, said a headteacher who spoke on condition of anonymity.
"The red line is continuously and arbitrarily shifting … so teachers have to self-censor all the time," he said.
By July last year, seven people had their teaching registrations revoked over their roles in the anti-government protests, according to local media. Two years ago, a Hong Kong primary school teacher was deregistered after being accused of using pro-independence materials in class when explaining the concepts of freedom of speech and independence.
Educational professionals say that based on the current statistics, student numbers will continue to fall.
While Hong Kong's birthrate has been consistently low, political uncertainties have further suppressed it, according to Prof Chung Kim-wah, a social scientist formerly with the Hong Kong Polytechnic University. A 2016 study found that worsening political freedoms in upper-middle income countries exerts downward pressure on fertility rates.
The headteacher fears that under all the restrictions, Hong Kong's next generation will lack the skills to cope with the rapidly changing global challenges.
"If you want young people to have creativity, lateral thinking and other soft skills, you need freedom in education, and this can't be achieved by just being obedient and loyal," he said.
*Names have been changed