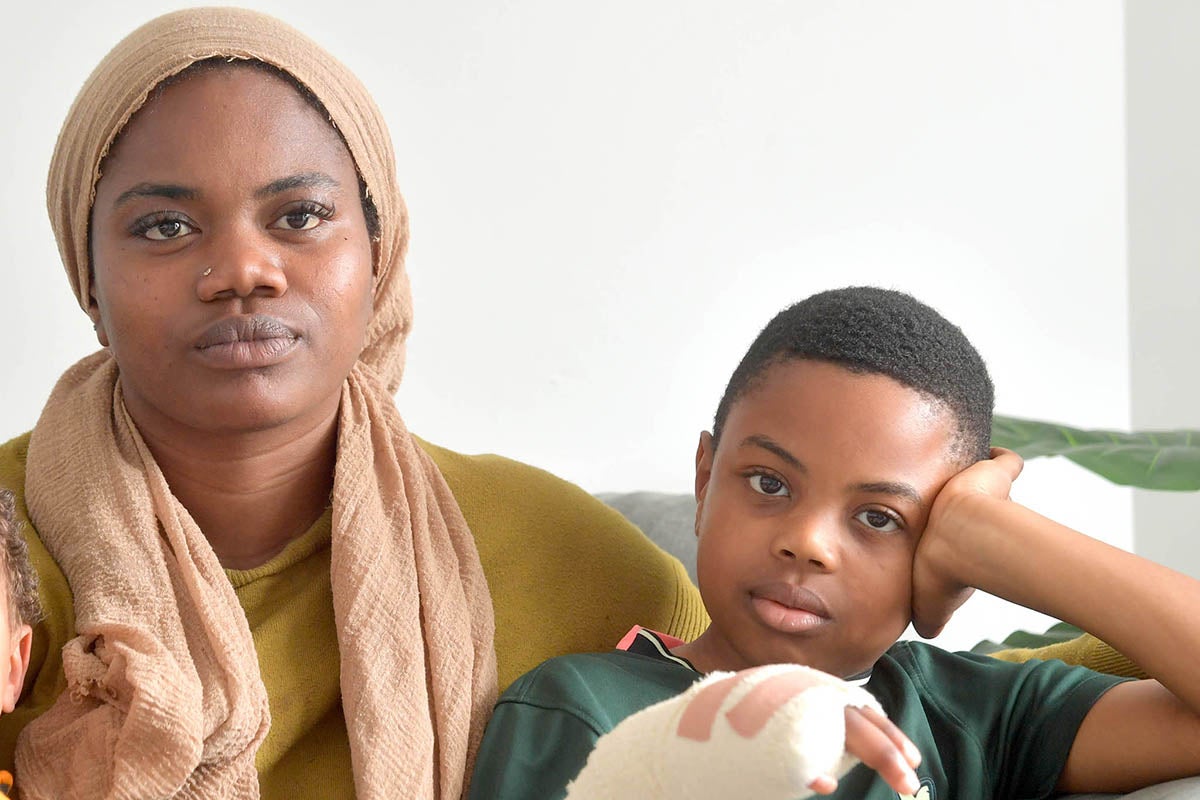 The mother of a Black boy lost a finger "while fleeing school bullies" is considering legal action after police abandoned an inquiry into the incident.
Raheem Bailey, who was aged 11 at the time, was allegedly beaten by a group of children at a school in Wales in May 2022 and broke his finger while climbing a fence to escape his tormentors. At hospital, doctors decided that the finger had to be amputated.
Gwent Police launched an investigation within days of the incident, however, after a nine-month investigation, the force decided no further action would be taken. They concluded Raheem had left the school "of his own accord" and found no one else was involved in his injury.
Hi mother, Shantal Bailey, said she learned of the force's decision through media reports.
She described the force's suggestion that no one else was involved in the incident as a "complete insult", and said she would escalate her complaint to the police watchdog, the Independent Office for Police Conduct (IOPC), as her legal team consider civil action.
"I am overwhelmingly disappointed by the police's decision to take no further action in Raheem's case. Although the police had indicated to me that this was the likely outcome, I feel that their statement makes it clear that they have taken at face value all other versions of events other than Raheem's," Ms Bailey said in a statement on Saturday.
"Yet he is the victim in this and has been left with a life-changing injury. My son is still traumatised by what happened to him and has a permanent physical reminder of the torment he suffered that day."
Speaking to The Independent exclusively after the incident had taken place, Ms Bailey revealed that her son had faced "racial and physical abuse" since he started secondary school at Abertillery Learning Community, in south Wales, in September 2021.
She said her son's injury followed a "sustained campaign" of bullying at the school over the preceding months and a previous experience that had taught him that reporting it to a teacher would not make a difference.
"It has never been in question that Raheem chose to leave the school, however, he did this in a state of sheer panic and despair, which left him feeling as if he had no option other than to leave the school ground by any means necessary."
Following the police update, Blaenau Gwent Council said it would order an independent review into the incident "to identify any lessons learned to help inform future incident management responses".
Leigh Day is the law firm supporting the Bailey family in making a complaint to the IOPC and investigating a civil claim against the school for alleged negligence.
Solicitor Frances Swaine said: "We echo our client's disappointment, not only with the conclusion arrived at by the police but by the way they have chosen to communicate this, which seems to lay any blame with Raheem and exonerate all others. 
"The altercation that led to him leaving school should be re-examined. Raheem had been reporting the bullying he had suffered for months but he felt that nothing was done by the school to help him. 
"While the council's promise of an independent inquiry is welcome, it is appalling that this was announced to the press before the family themselves were consulted. It is crucial that any inquiry allows Shantal and Raheem to be fully involved."
Gwent Police has been approached for comment.