Happy fall, teachers! Thanksgiving break is just around the corner, and then it's just a skip and a hop to the holidays! If you're looking to fill your lesson plans with fun, standards-aligned activities, you've come to the right place! Today, I'm sharing some of my favorite activities surrounding the Thanksgiving Holiday! Read on the checkout ten fun Thanksgiving activities you can do in the classroom to get your students engaged and excited about learning.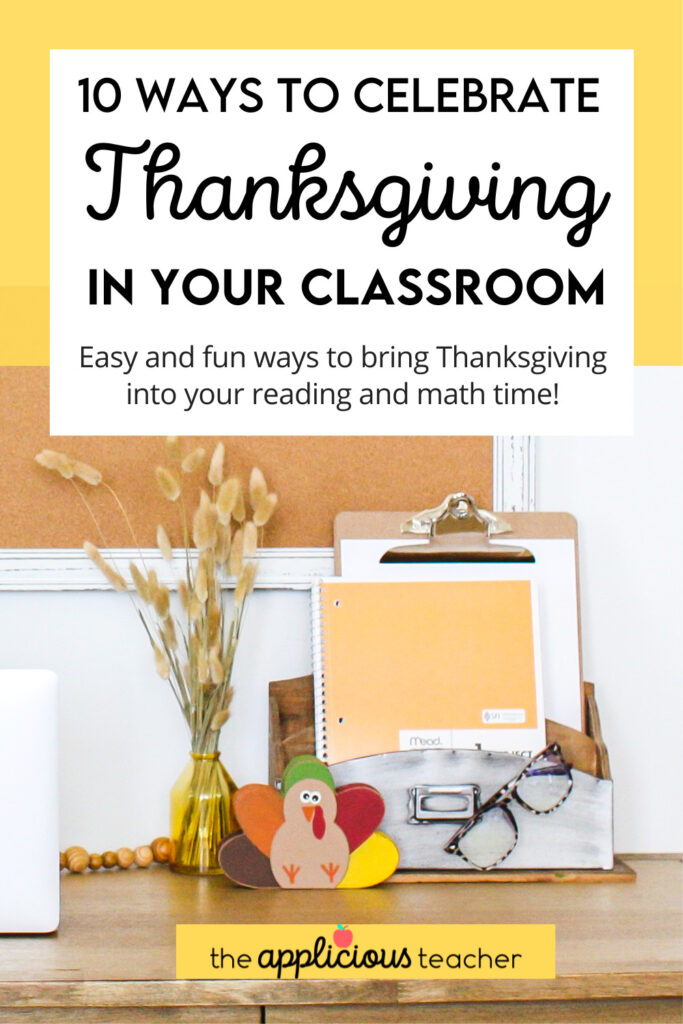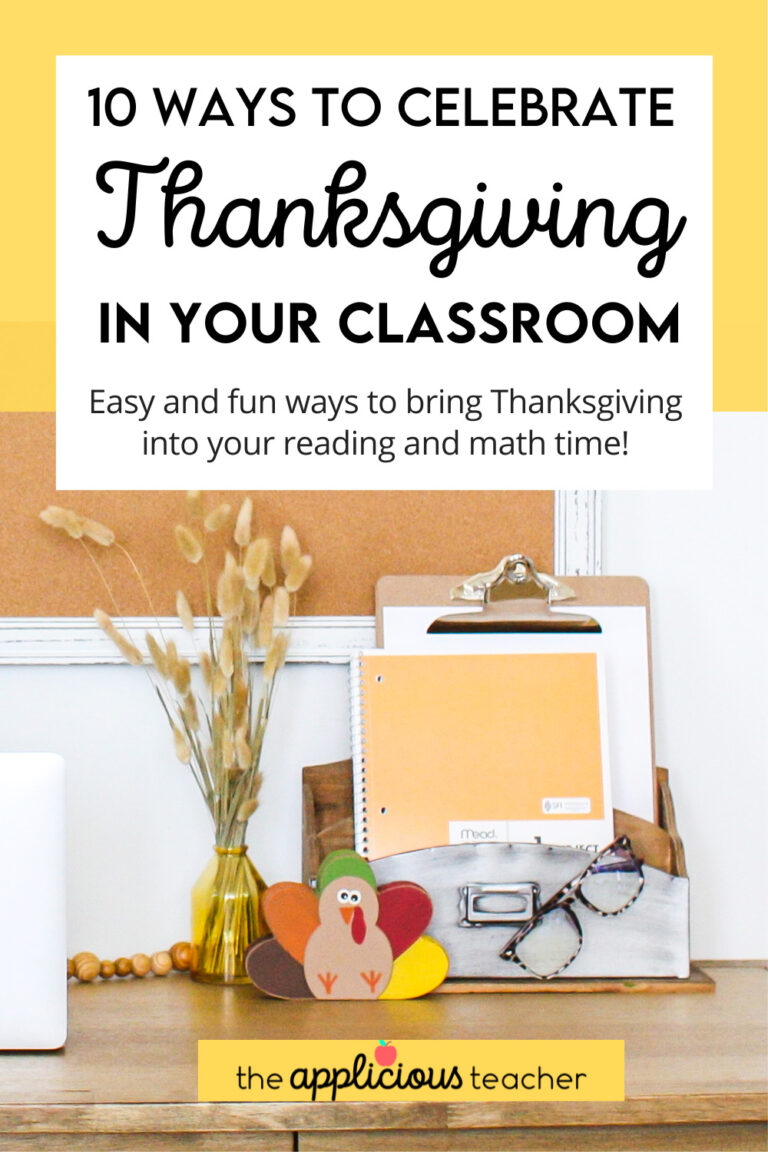 Fun Thanksgiving Activities for 2nd Grade
1. Host a Class Thanksgiving Feast
Host a class Thanksgiving feast! This is a great way to bring your class family together. Invite parents and special people to join in the celebration. To prepare, send out a list requesting some traditional Thanksgiving foods.
On the day of your class family feast, pull all your desks together to form one long table. Then, decorate them with butcher paper, paper leaves, and a turkey mat!
Use Sign Up Genius to help coordinate this fun activity!
2. Have Turkey Fun with Turk and Runt
Students love this Thanksgiving comedy, and now you can create a whole week's worth of reading and writing activities for it with this Beyond the Text Unit.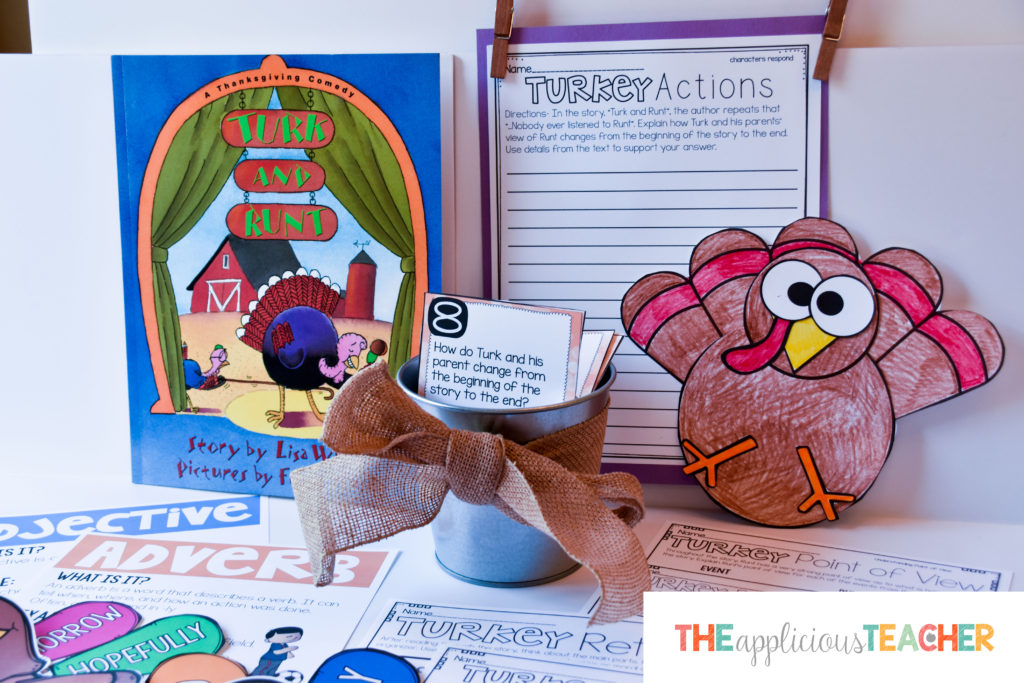 For this unit, students learn more about adjectives and adverbs, character actions, and combining sentences- All through this fun and silly Thanksgiving book!
Want easy grab-and-go lesson plans where everything is already planned and done for you? Grab them here!
3. Learn how the Thanksgiving Holiday Came About
Read, Thank you, Sarah. This book tells the story of Sarah Hale, the newspaper editor who wrote letters to Congress for 38 years, asking them to make Thanksgiving a national holiday.  It is a children's historical picture book, so it's perfect for 2nd grade!
See how we used this book for a reading lesson here!
4. Make Turkey Placemats!
One thing I love about this time of year is the "fun stuff" you can do with your students, including having them create this keepsake turkey placemat!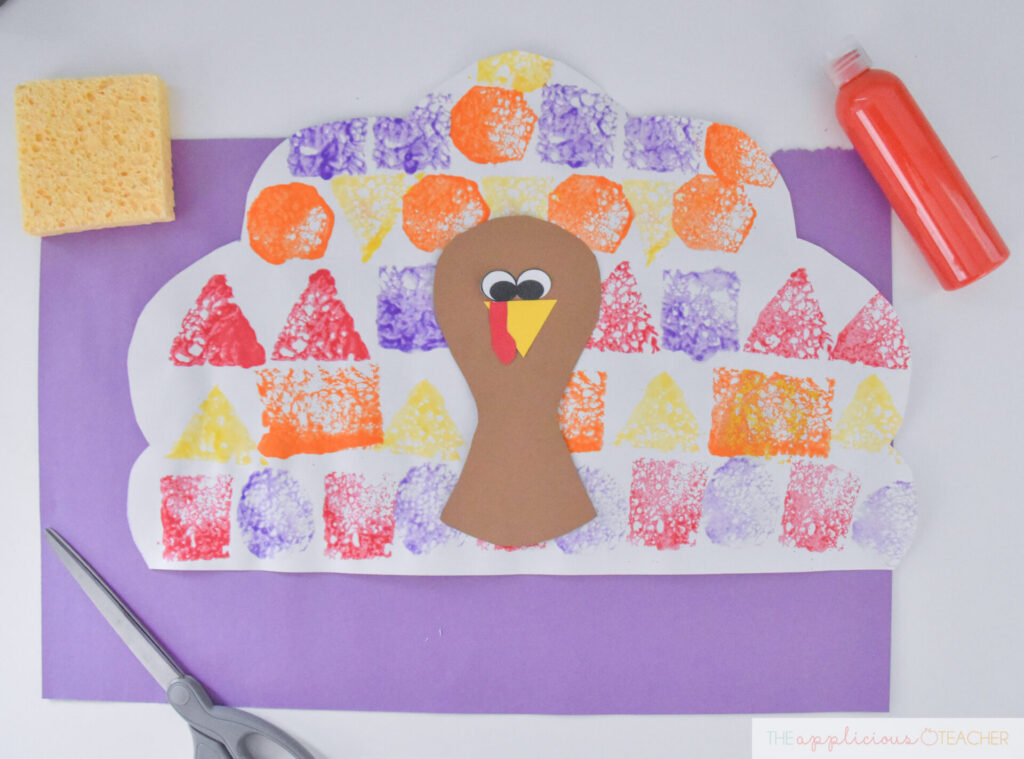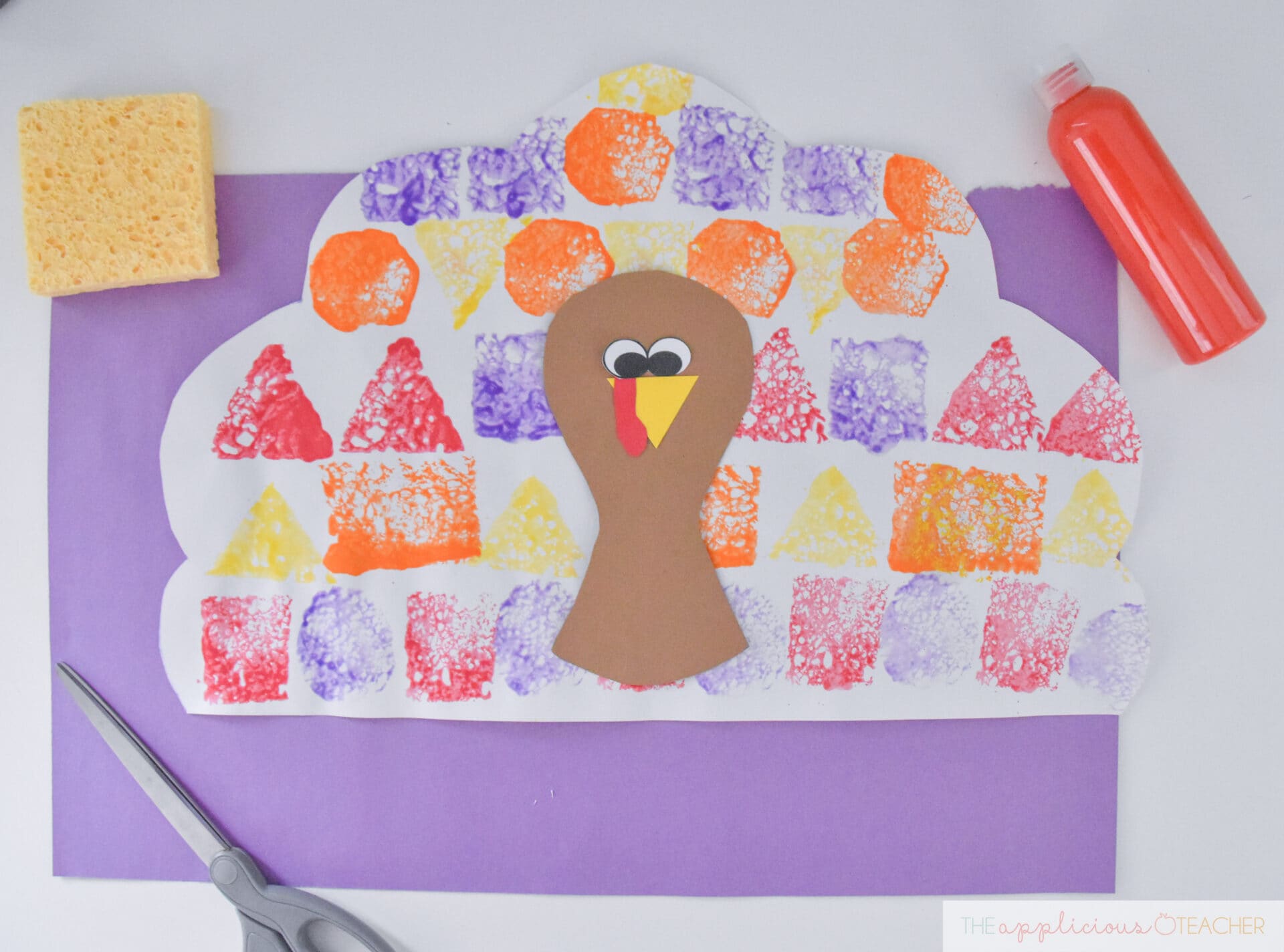 This is an easy craft and only takes a few minutes. Check it out here! Don't forget to download the free tracer pieces while you're there!
5. Read Some Thanksgiving or Turkey-Themed Books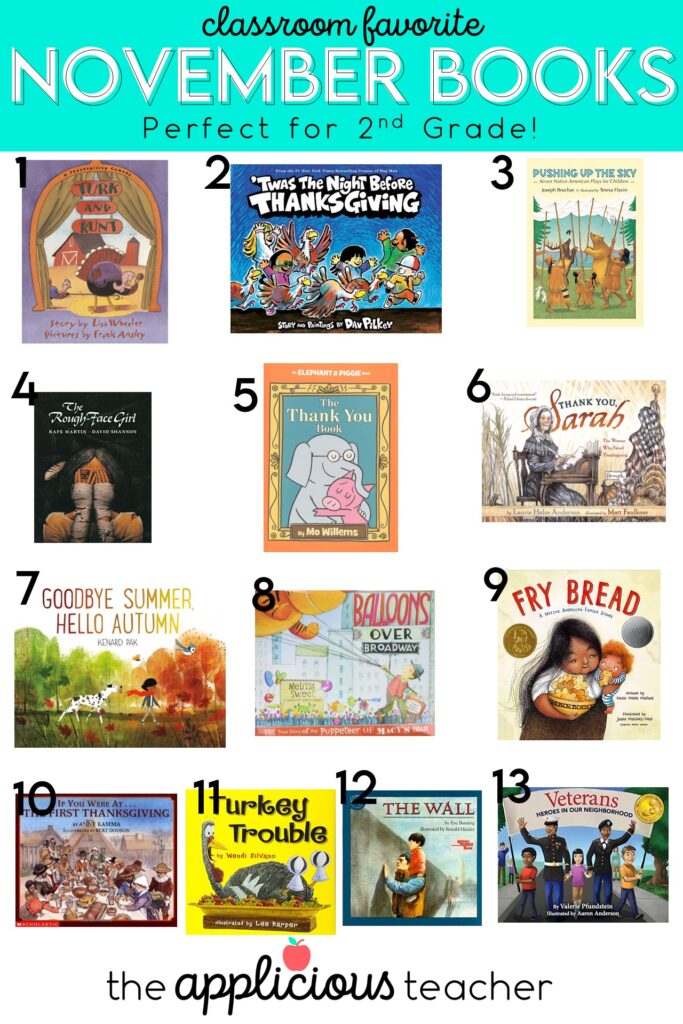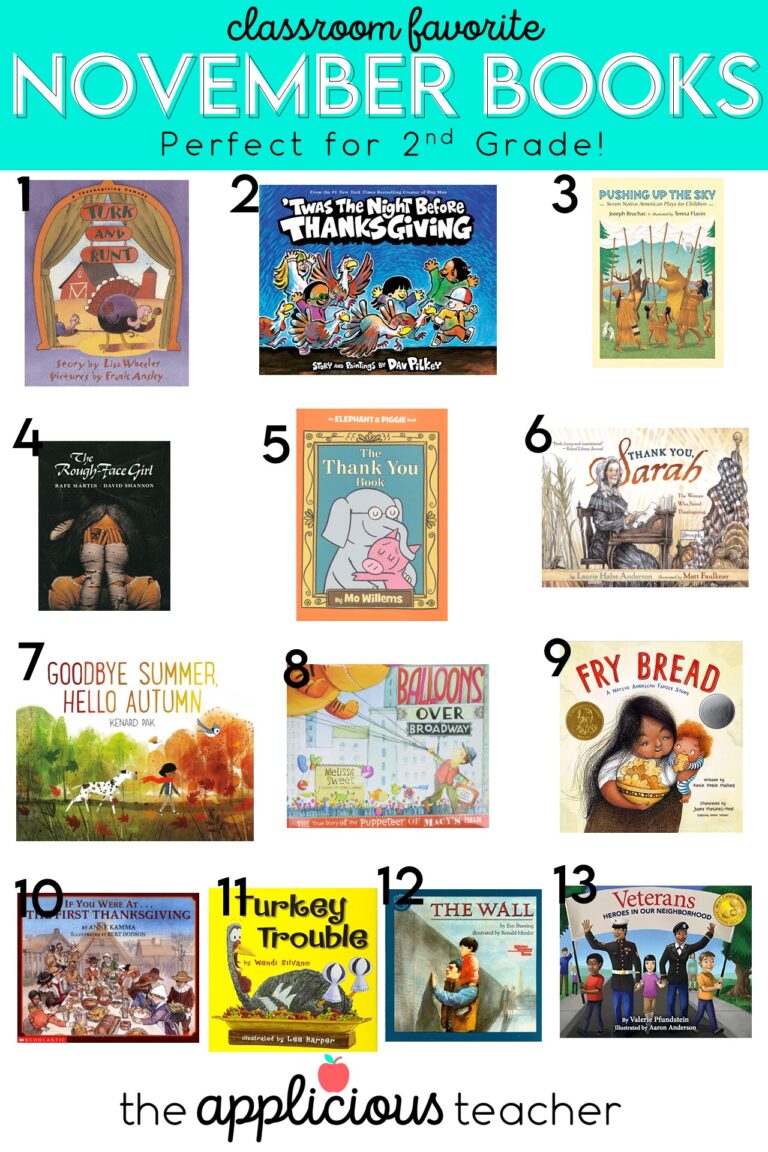 Check out some great books that you can read with your class for the month of November here.
6. Persuasive Turkey Writing
This is the perfect activity to do the last few days before Thanksgiving Break! Have students write persuasive letters to their families, convincing them to have something other than turkey as part of their Thanksgiving feast.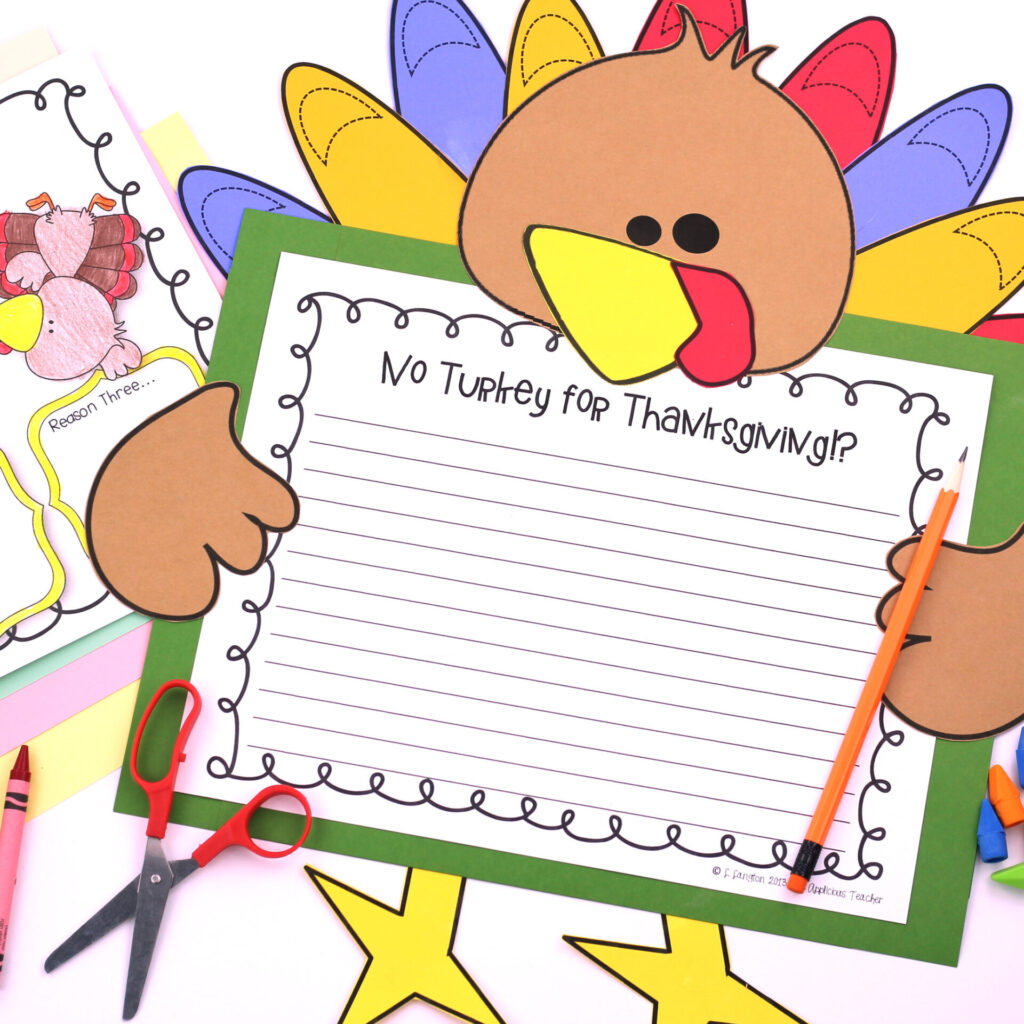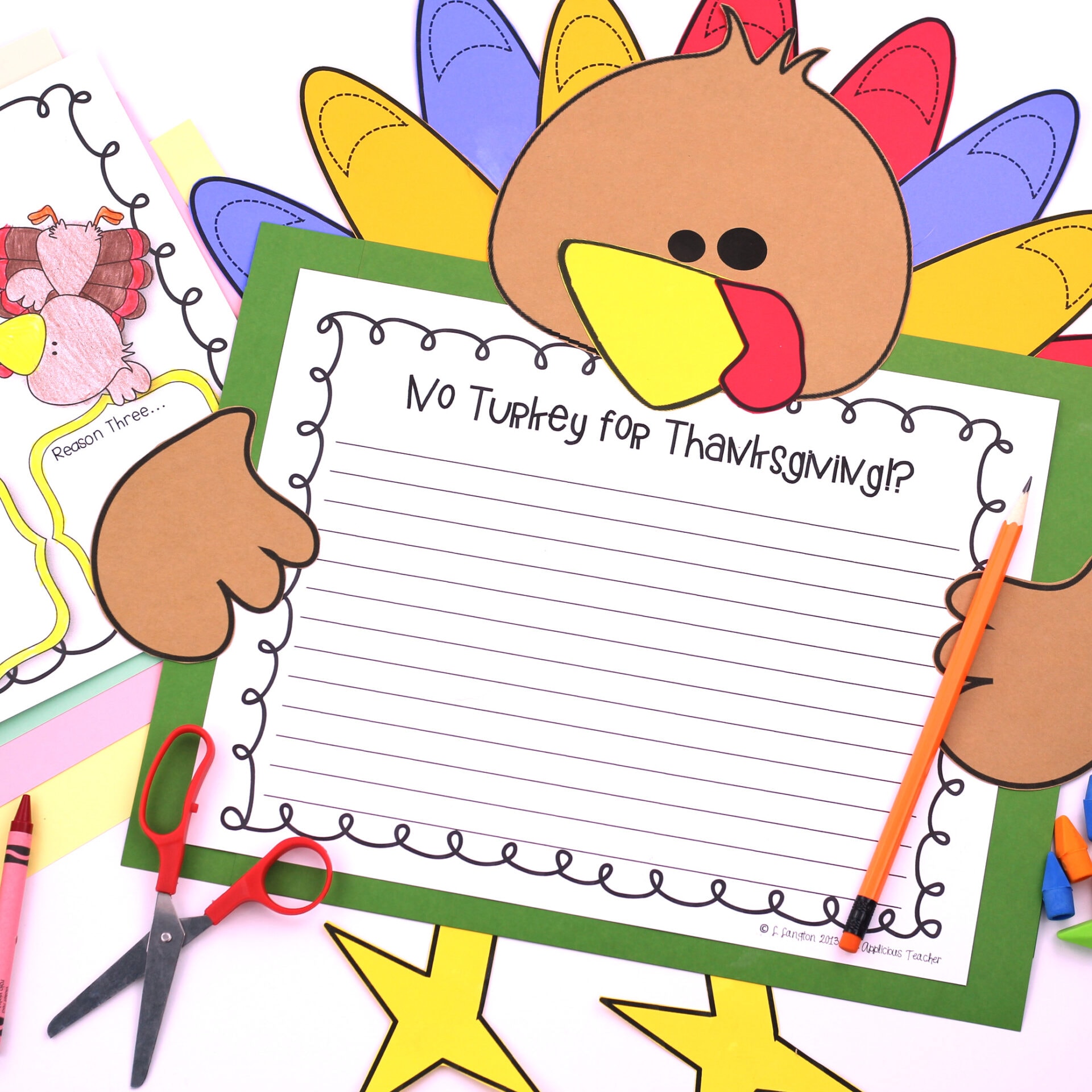 Read more about this fun and easy writing!
This activity goes really well with the book, Twas the Night Before Thanksgiving.
7. Conduct a Native American Research Project
Shine a spotlight on more than just the Wampanoag tribe this season. November is Native American Heritage Month, making it the perfect time to springboard into learning about the First Americans.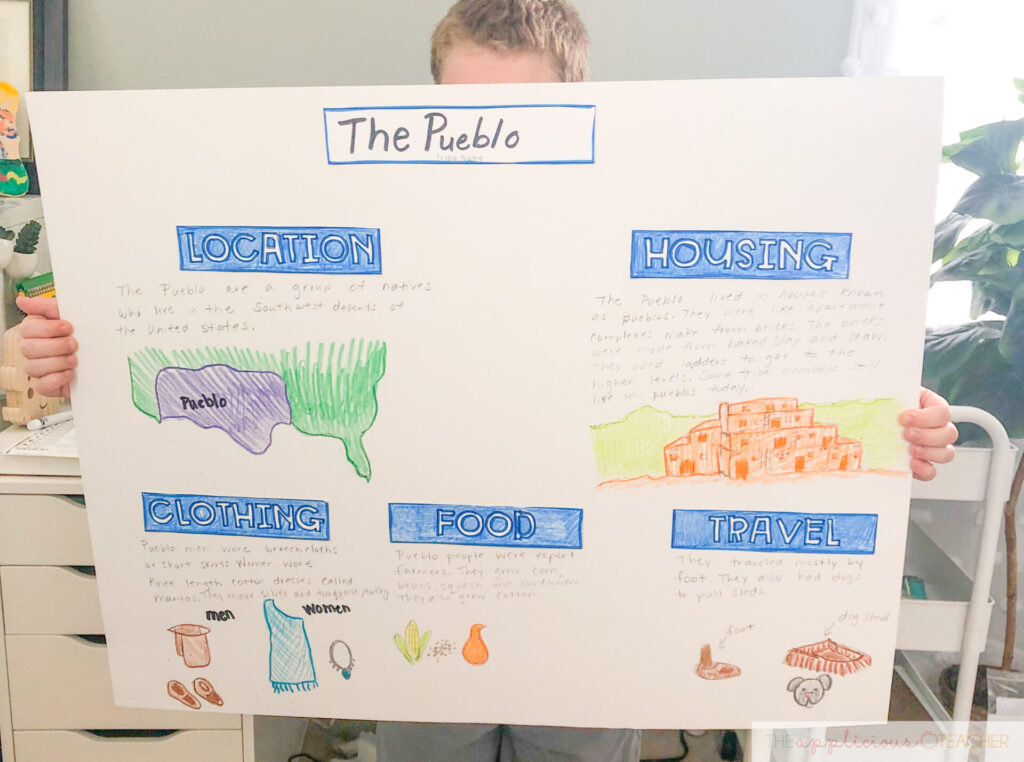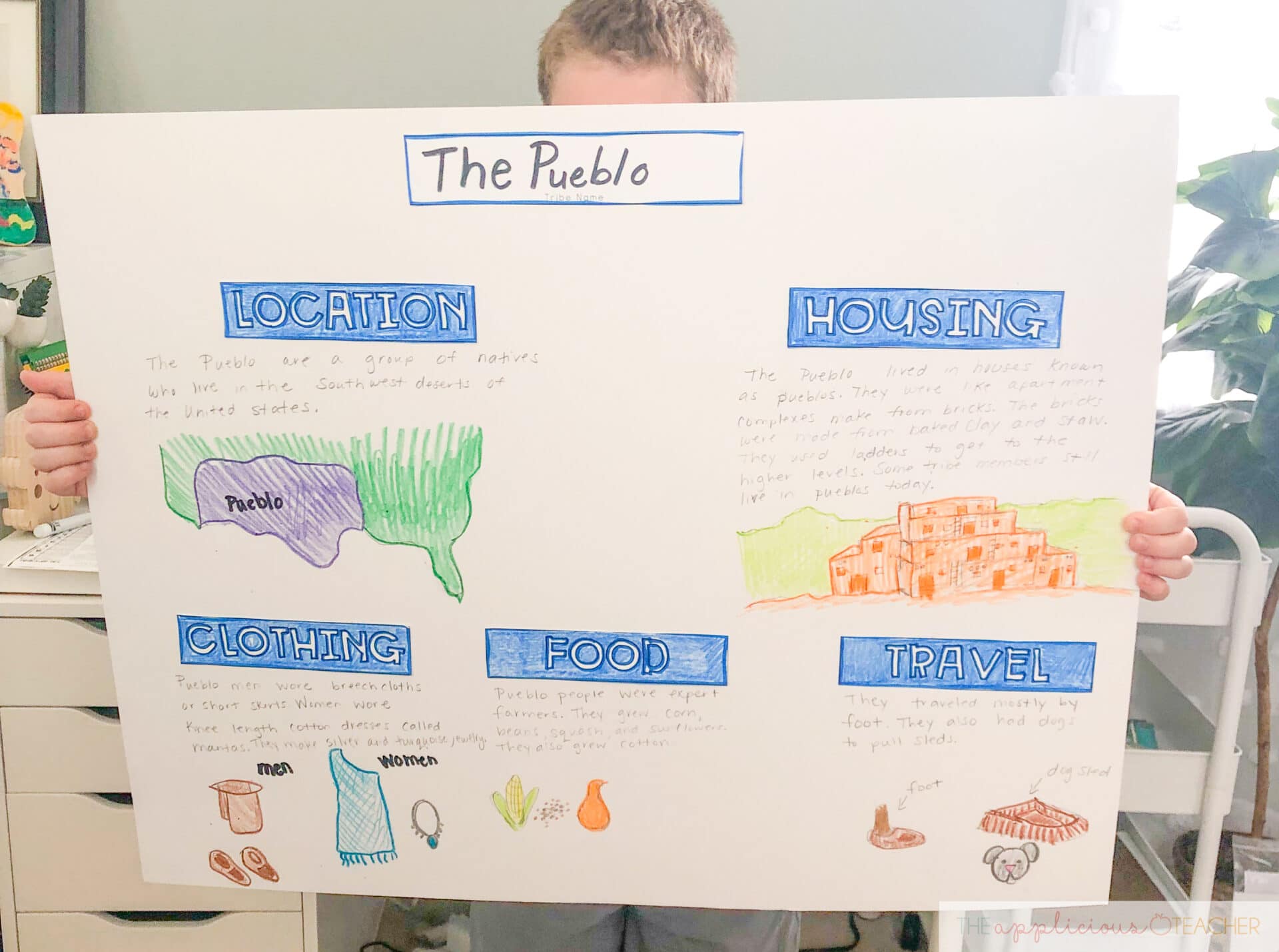 To complete, have students select a tribe to research. Click here to see how you can implement this research project with your 2nd graders!
8. Design Balloon Floats for a Virtual Parade
This is a fun activity that gets everyone thinking creatively. Carly and Adam have great activities students can do, using balloons, a green screen, and a few devices! Check out the full idea here!
9. Fall Days Literacy Centers
Bring the fall season to your literacy stations with these class-favorite Fall Days Literacy Centers. Differentiated and perfect for 2nd grade, you'll love all the skills covered in this pack, and your students will love all hands-on practice!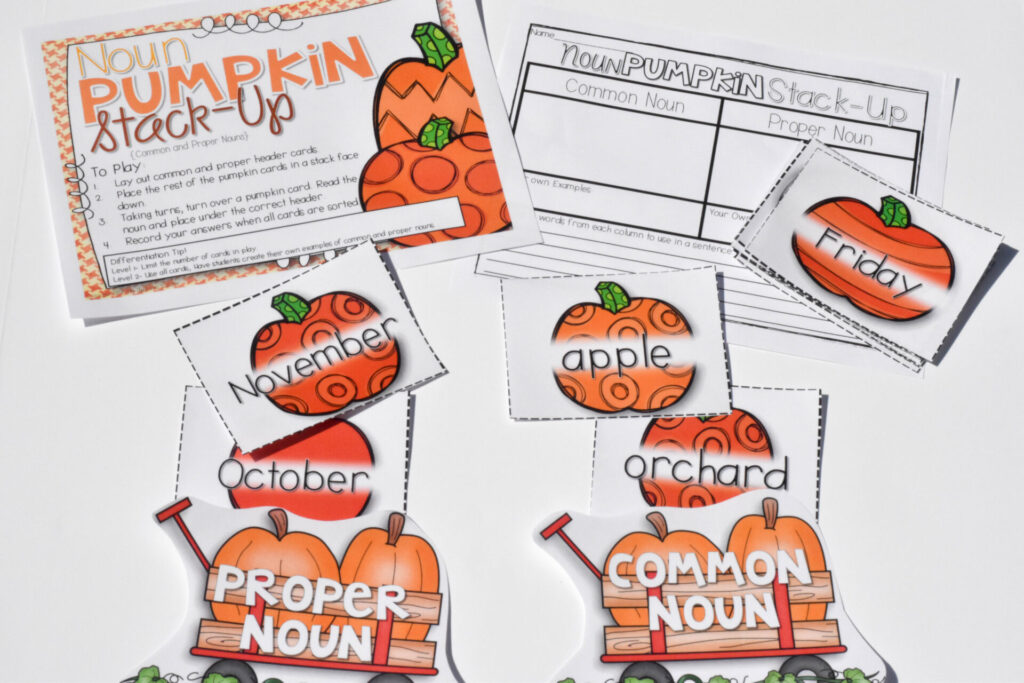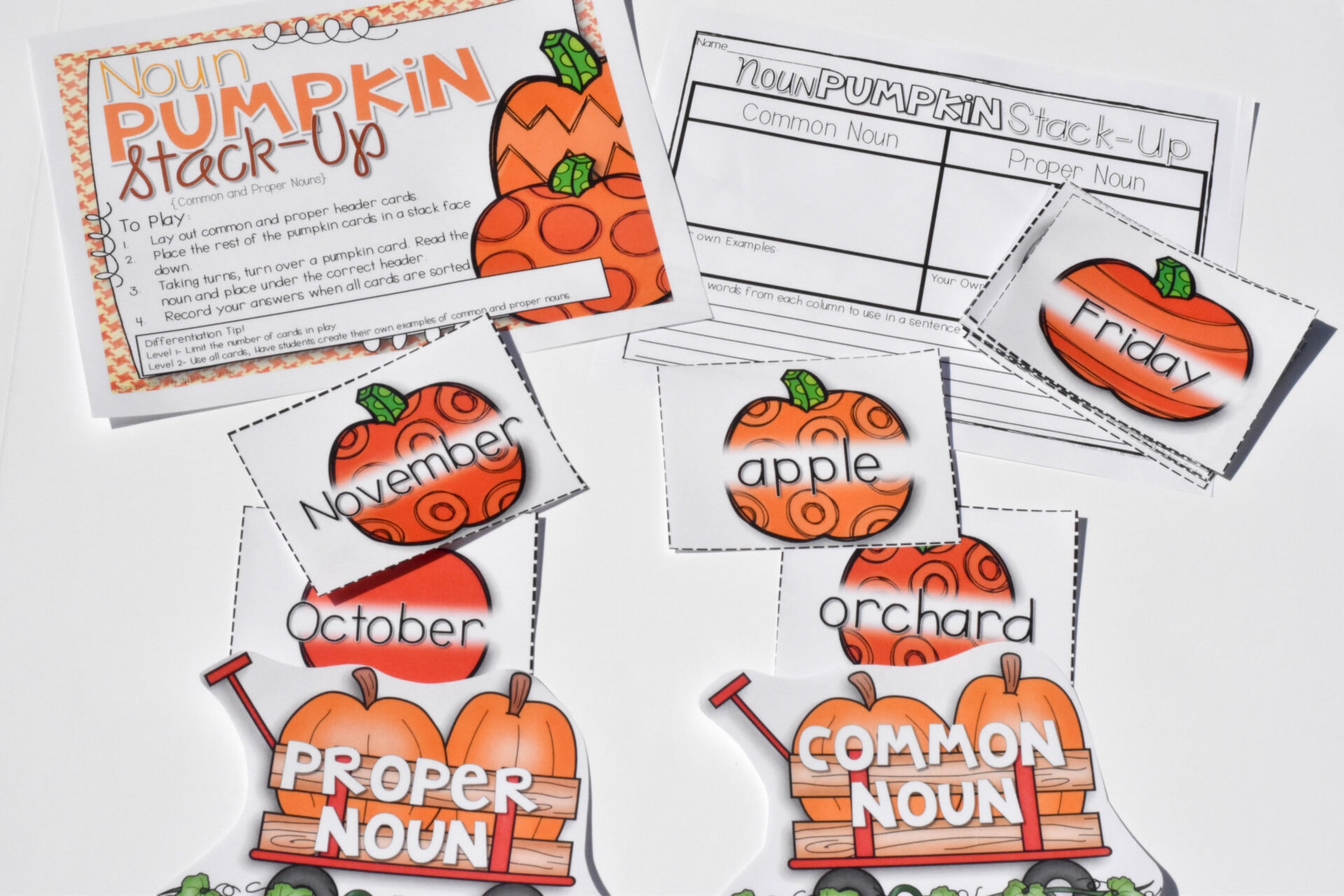 Want to have your literacy stations DONE for the year? Check out the BUNDLE!
10. What Does it Mean to Be Thankful?
Last but not least, take some time to discuss what being thankful means to each of your students. What does it mean to be thankful? Why do we celebrate Thanksgiving? What traditions do their families have around this time of year?
There are no wrong answers here – just lots of interesting perspectives from your students that will give you insight into their backgrounds and cultures.
This is a perfect low-key activity students can complete in their Reading Response Journals! Students write the answers to the questions in their journals. Add illustrations to match!
Thanksgiving Activities for 2nd Grade
There you have it! 10 easy and fun ideas to try this Thanksgiving season. Which activities will you incorporate into your lesson plans these next few weeks?
The Taking Back Fall Break Challenge!
Do you spend your fall break working on school stuff? Well this year, it's time to focus on what really matters during your fall break? Eating pie and falling asleep watching Hallmark Christmas movies on repeat! If you're ready to take back your Thanksgiving break, join thousands of teachers in the #TakingBackBreakChallenge! Sign up below to get all the deets! We start the week before Thanksgiving Break!
Happy Thanksgiving, and happy teaching!
Related Posts
Sign up to snag these!
Receive all these classroom management tools right to your inbox!