The University of Western Australia (UWA) is a dynamic, multicultural university located in Perth, Australia, with a strong focus on research.
Internationally acclaimed for its high academic rankings, UWA offers an unrivalled student experience in an idyllic student city and with strong links to industry.
But what makes it the best choice for international students? Here are six reasons why.
Achieve a world-class education at a world top 100 university
Ranked 85th in the world (Academic Ranking of World Universities 2020), the University of Western Australia is a leading institution with a 5-star rating for student-teacher ratio, student demand, undergraduate teaching quality and postgraduate learner engagement (Good Universities Guide 2021).
From 4th in the world for Mineral and Mining Engineering to 29th in the world for Clinical Medicine, UWA has placed top 50 in the world for 11 subjects in the Academic Ranking of World Universities by Subject 2020.
UWA is a national leader in STEM subjects, achieving the highest ranking in Australia for Agricultural Sciences, Biological Sciences, Environmental Science and Engineering, Marine/Ocean Engineering and Mining and Mineral Engineering.
Whatever subject you want to study, you will be in safe hands at UWA.
Graduate equipped for success in your future career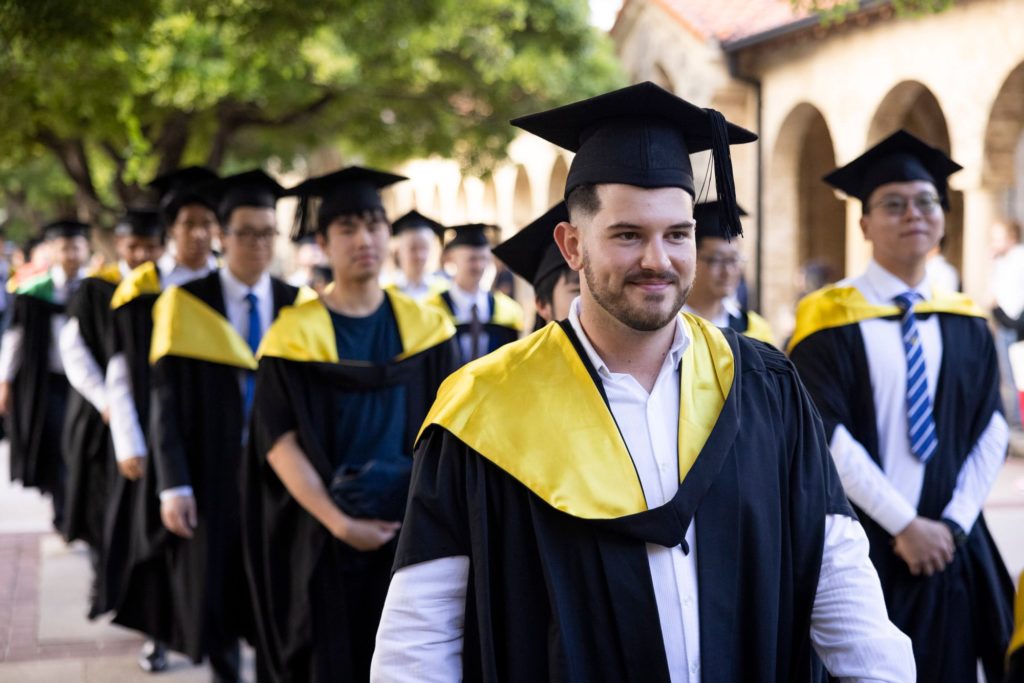 With an established network of 4,500+ industry partnerships, UWA offers you a head start on your career.
You'll have the opportunity to complete professional work placements during your studies, and in addition to credit-based work experience, there are a number of other opportunities to gain practical experience including:
take an internship through Guild volunteering
connect with industry professionals through the Career Link Mentor Link program
attend workshops at the UWA Career Centre
UWA's network of professional connections that you could take advantage of include:
ATCO
Australian Government
Australian Institute of Management
BHP Billiton
Department of Commerce
Department of Foreign Affairs and Trade
Engineers Australia
EY
Mitsubishi Development
Mitsui & Co
Perth Fashion Festival
Perth Institute of Contemporary Art
Wesfarmers
Teaching informed by world-leading research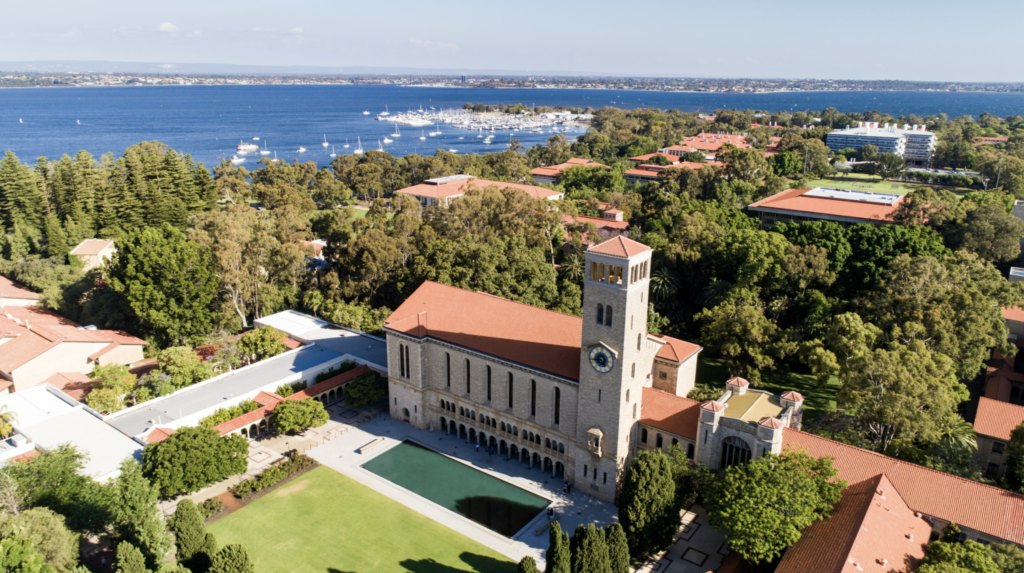 The University of Western Australia is a public research university and a member of the Group of Eight – a collective of Australia's leading research-intensive universities.
Home to internationally renowned scholars such as Professor Barry Marshall, an Australian physician and Nobel Prize Laureate in Physiology/Medicine, UWA has 75+ research and training centres and receives 80% of the research funding for universities in Western Australia.
The University's Innovation Quarter is led by internationally recognised researchers who employ top undergraduate and postgraduate students to help develop world-class research. UWA's range of research collaborations have included partnerships with:
Australian Neuromuscular Research Institute
BHP Billiton
Centre for Clinical Research in Neuropsychiatry
Centre for Musculoskeletal Studies
Chevron
Department of Agriculture and Food
Department of Environment and Conservation
Harry Perkins Institute of Medical Research
Lung Institute of Western Australia
Western Australian Institute for Medical Research
Western Australian Marine Science Institute (WAMSI)
Perth is an idyllic international student city of opportunity
A population of more than 125,000 university students and a city-wide celebration of culture combine to make Perth a diverse and youthful place to live and study. Students can get the best of both worlds here – the bright lights of the city as well as the calmness of Western Australia's great outdoors.
In the city you'll find numerous international food outlets, markets, galleries and boutiques, while out in nature you'll discover glistening beaches, ancient caves, forests and woodlands populated with unique wildlife.
You'll study in the sunniest – and most affordable – capital city in Australia with a thriving arts and music scene, rated the world's 14th most liveable city (Economist Intelligence Unit 2019).
Find out more about how Perth is the perfect international student destination here. [Link to UWA blog 1]
Closely connected to Asia, with global transport links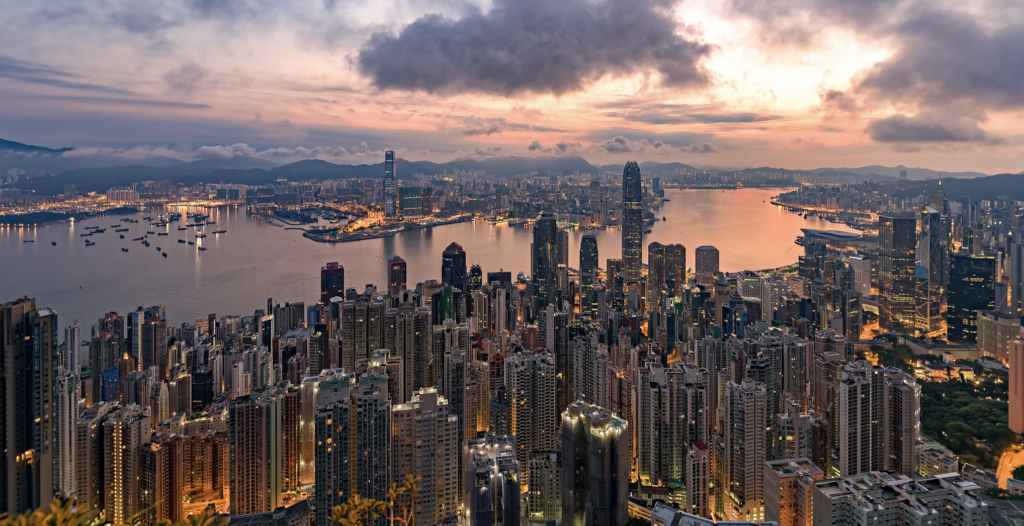 UWA is in the same time zone as much of South East Asia and China (GMT+8), meaning that it's easier than ever for Asian students to stay connected to home while studying in Perth.
Perth has an international airport with direct flights across Asia and can easily connect you to prominent cities across the world. The fourth busiest airport in Australia, destinations include:
China
Hong Kong
Indonesia
Japan
Malaysia
Mauritius
New Zealand
Qatar
Singapore
South Africa
United Arab Emirates
Direct flights to Europe from Perth are planned for the future, which will include the UK, France, Germany and Italy.
Unrivalled campus culture to make meaningful connections
Make connections with likeminded peers by joining one of more than 140 clubs and societies – ranging from cultural societies and sports clubs to creative and hobby societies.
Meet ups and events put on by societies often include games nights, study groups, quiz nights, art clubs, movie nights and fundraising activities.
UWA strives itself on its campus culture, ensuring that you feel welcomed when you arrive and socially connected throughout your studies. You could:
volunteer in a cause you care about and meet other students who share your passions
sign up to be a student mentor and attend special events throughout the year
join a sports team or watch one of UWA's huge sporting events
attend live music events and listen to young emerging artists and local, national or international musical talent
watch plays and musicals put on by the Dramatic Society
take part in group prayer or worship on campus
enjoy Student Guild events such as Wellness Week, women's panels, mental health workshops and personal development workshops
Visit INTO Study to find out more about studying abroad with INTO!
You may also like to read 8 unique features that make Perth the perfect international study destination or 7 ways to prepare for studying abroad.
Connect with other successful students who are studying abroad on YouTube, TikTok, Facebook, Instagram, LinkedIn and Twitter!